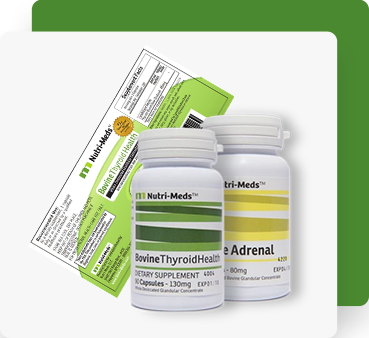 Nutri-Meds has had the honor of serving the best customers any company could hope to have since 2001. We are family owned and operated, and are committed to offering outstanding products and service that make you feel good about shopping with us.
We are dedicated to doing our best to support those who struggle with thyroid problems to feel their best.
Guides to Nutri-Meds Thyroid and Adrenal Glandulars
THESE STATEMENTS HAVE NOT BEEN EVALUATED BY THE FOOD AND DRUG ADMINISTRATION. THESE PRODUCTS IS NOT INTENDED TO DIAGNOSE, TREAT, CURE, OR PREVENT ANY DISEASE.
NOTHING IN THIS DOCUMENT OR ON OUR WEBSITE IS INTENDED AS, OR SHOULD BE CONSTRUED AS, MEDICAL ADVICE. CONSUMERS SHOULD CONSULT WITH THEIR OWN HEALTH CARE PRACTITIONER FOR INDIVIDUAL MEDICAL RECOMMENDATIONS. THE INFORMATION CONTAINED HEREIN CONCERNS DIETARY SUPPLEMENTS. THESE ARE OVER-THE-COUNTER (NONPRESCRIPTION) PRODUCTS THAT ARE NOT DRUGS.
Anonymous
(verified owner)
Excellent product! I've told many acquaintances & friends about Nutra-Meds and they've switched off their meds they were struggling on and are now doing well. Nutra-Meds is amazing & worth every penny 🙂
Anonymous
(verified owner)
This product has been my go-to for years enabling me to avoid pharmaceuticals and all the associated risks.