to receive a discount on your bulk order!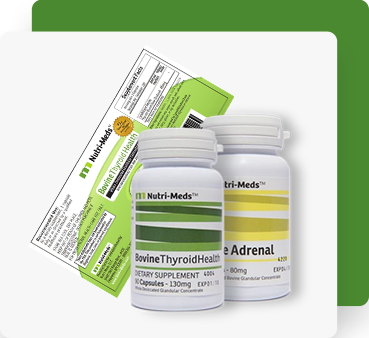 Nutri-Meds has had the honor of serving the best customers any company could hope to have since 2001. We are family owned and operated, and are committed to offering outstanding products and service that make you feel good about shopping with us.
We are dedicated to doing our best to support those who struggle with thyroid problems to feel their best.
Guides to Nutri-Meds Thyroid and Adrenal Glandulars
THESE STATEMENTS HAVE NOT BEEN EVALUATED BY THE FOOD AND DRUG ADMINISTRATION. THESE PRODUCTS IS NOT INTENDED TO DIAGNOSE, TREAT, CURE, OR PREVENT ANY DISEASE.
NOTHING IN THIS DOCUMENT OR ON OUR WEBSITE IS INTENDED AS, OR SHOULD BE CONSTRUED AS, MEDICAL ADVICE. CONSUMERS SHOULD CONSULT WITH THEIR OWN HEALTH CARE PRACTITIONER FOR INDIVIDUAL MEDICAL RECOMMENDATIONS. THE INFORMATION CONTAINED HEREIN CONCERNS DIETARY SUPPLEMENTS. THESE ARE OVER-THE-COUNTER (NONPRESCRIPTION) PRODUCTS THAT ARE NOT DRUGS.
Stacey A
(verified owner)
Been taking this for several years now. I never knew I had ankles before taking this, even as a child, no matter how thin I was I had chubby undefined masculine looking ankles. I can only imagine that I was born with some type of thyroid or nutritional dysfunction that taking desiccated organ meats eliminates. Also, of course my eyebrows grew back and I don't fall asleep driving while the lab tests say I am normal anymore. This is food, not medication so I highly recommend anyone who is showing signs of your body just not doing what and how it used to give these products a try.
Stacey A
(verified owner)
Last week my husband who is on pig thyroid prescription started to have a puffy face again and I thought maybe this adrenal cortex plus that I take with my desiccated thyroid may help. It did, 2 days, literally 2 pills and he is feeling better than he has in years, standing taller and better posture and no more puffy face.